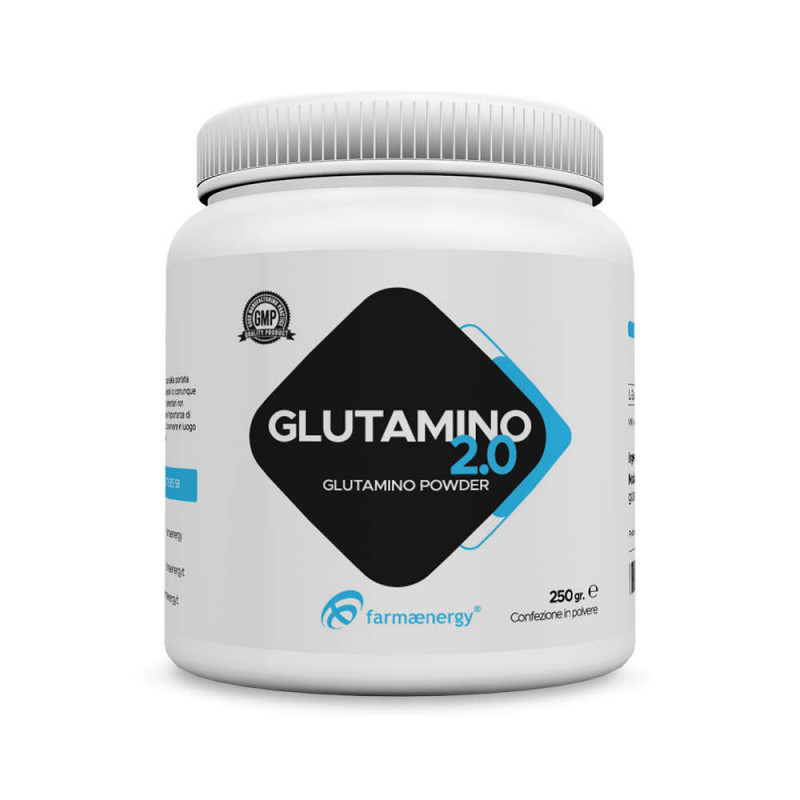 GLUTAMINO 2.0 Powder 250 gr
Glutamino 2.0 Farmaenergy is a supplement containing pharmaceutical pure l-glutamine which has an important detoxifying and anti-catabolic action.
More info
Glutamino 2.0 Farmaenergy is a supplement containing pharmaceutical pure l-glutamine which has an important detoxifying and anti-catabolic action. This amino acid represents an energy substrate for brain cells and is very useful for inhibiting muscle catabolism.
Indicated for muscle tone in sports and as a supplement to enhance alertness, glutamine is involved in ammonia detoxification processes.
GLUTAMINO 2.0 BY FARMAENERGY: GLUTAMINE, A MULTI-FACETED AMINO-ACID
When we talk about l-glutamine, we must enter the perspective that it's a versatile amino acid involved in many body processes. From health support to sport use, this amino acid can:
stimulate the immune defenses in terms of energy support in rapidly multiplying cells such as lymphocytes and macrophages.
overcome the blood-brain barrier and get into the brain, and then be converted into glutamate, the SNC excitatory neurotransmitter. Furthermore, this macronutrient is also a precursor of the Gaba, a nerve transmission inhibitor that promotes a state of relaxation.
In relation to the sporting discipline, this active ingredient is involved in muscular volumization, promoting water and amino acids entry into the cells. These peculiarities stimulate the synthesis of new proteins and the growth of hypertrophy.
In overtraining, when the body is no longer able to adapt to the physical effort induced by the workout, there is a drastic amino acids decrease in plasma levels causing symptoms such as chronic fatigue, weight loss, mild infections, loss of appetite, depression and apathy.
According to some studies, the combined intake of glutamine and branched chain aminoacids can be useful to reduce the overtraining possibility.
GLUTAMINO 2.0: CONDITIONS OF USE
Farmaenergy recommends taking a small measuring spoon (2.5g) per day with a glass of water. Some studies showed that in recovery period glutamine plays a large part in raising muscle glycogen stores, a process that is probably favored by the increased water flow into cells, and in stimulating the somatotropic hormone Gh secret which is normally obtained only under conditions of reduced blood sugar levels.
To amplify this action, this amino acid should be taken before going to bed, in support of the natural physiological peaks that occur during the hours of deep sleep.
In order to support post-training recovery we suggest to associate Glutamino 2.0 to an insulinogenic food source like Atp Force 2.0, a blend of fast and medium release carbohydrates. Do not exceed the recommended dose.
Nutritional Facts
Servings per container:

100
Serving Size:

2,5g

()
Active Ingredients
% Daily Value
*
Percent Daily Values are based on a 2,000 calorie diet. Your daily values may be higher or lower depending on your calorie needs.
Other ingredients:
L-Glutammina (grado farmaceutico)
Istructions:
Dissolvere un misurino, pari a 2,5g di glutammina pura, in 250ml d'acqua, 1 o 2 volte al giorno.
Warnings:
Non superare le dosi giornaliere consigliate. Tenere al di fuori dalla portata dei bambini al di sotto dei tre anni. Non assumere in gravidanza e nei bambini o comunque per periodi prolungati senza sentire il parere del medico. Gli integratori alimentari non vanno intesi come sostituti di una dieta variata ed equilibrata. Ricordiamo l'importanza di seguire uno stile di vita sano e un'alimentazione variata ed equilibrata. Conservare in luogo fresco ed asciutto. Richiudere accuratamente la confezione dopo l'uso.
Reviews
Reviews
No customer reviews for the moment.
19 other products in the same category: