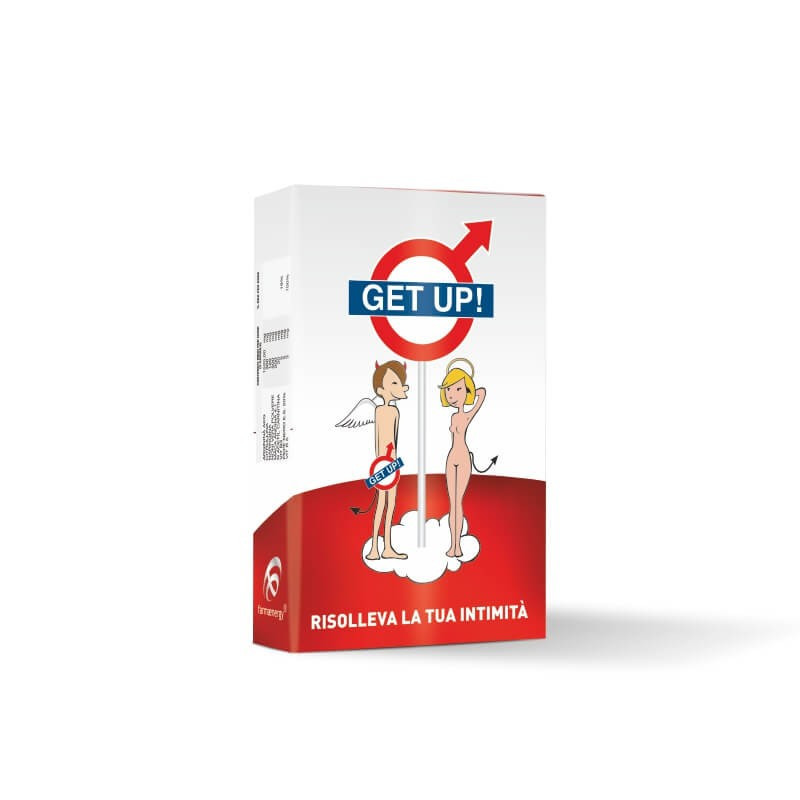 GET UP 12 tabs
RESOLVE YOUR INTIMITY USEFUL TO INCREASE THE VIRTUAL RESOURCES OF VITALITY, READY AND RESISTANCE
More info
GET UP is a new formulation nutritional supplement that can be useful to increase the virile resources of vitality, promptness and resistance giving serenity of couple. It is a great tonic for men.
Nutritional Facts
Servings per container:

4
Serving Size:

3 cps

()
Active Ingredients
% Daily Value
*
Percent Daily Values are based on a 2,000 calorie diet. Your daily values may be higher or lower depending on your calorie needs.
Other ingredients:
Arginina AKG, Citrullina, Naringina, Noni vera polvere, Maca andina 4:1,L-Acetil Carnitina, Vit. B3, Pepe nero e.s. 20%, Vit. B6
Istructions:
Assumere 3 capsule a stomaco vuoto con un abbondante bicchiere d'acqua.
Warnings:
Non superare la dose consigliata; non prenderla di sera poiché potrebbe dare una leggera eccitazione. Segnaliamo che questo fitoterapico non è indicato in chi sia in terapia con farmaci immunosoppressori o con anticoagulanti ed antiaggreganti piastrinici (aspirinetta e cardioaspirina comprese). Si consiglia di non assumere il prodotto per chi avesse edemi o fosse diabetico. Tenere al di fuori della portata dei bambini al di sotto di tre anni. Il prodotto va utilizzato nell'ambito di una dieta varia ed equilibrata e di uno stile di vita sano.
Reviews
20 other products in the same category: