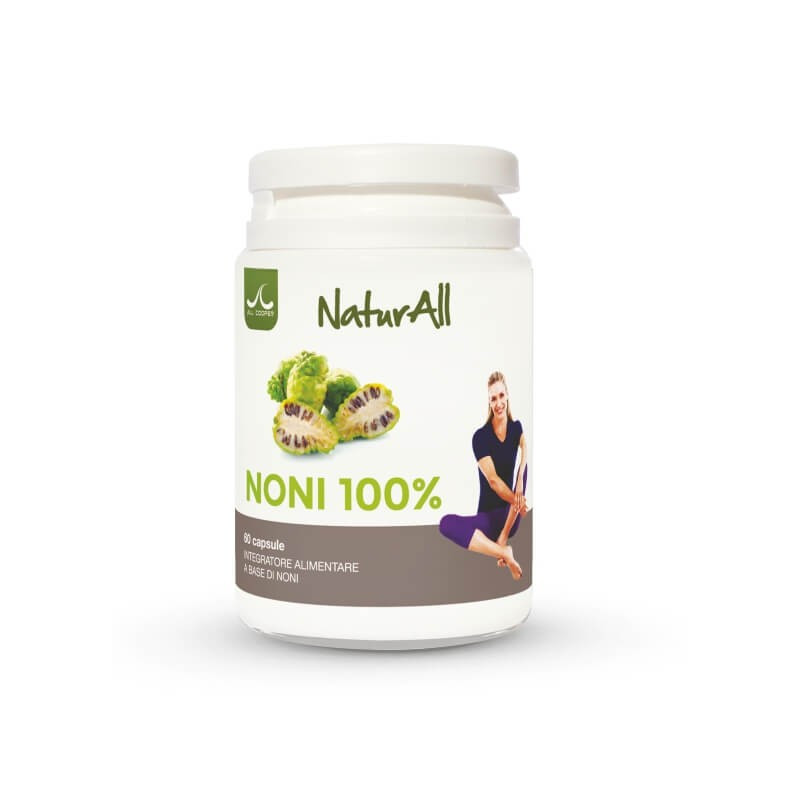 NONI 100% 60 caps
NONI 100% NaturAll Farmaenergy contiene succo liofilizzato ad effetto antiossidante e tonico adattogeno contro gli stati di stanchezza fisica e mentale
More info
NaturAll by company Farmaenergy sponsors Noni 100% 60 capsules, a dietary supplement that is useful as a tonic and is indicated for physical and mental fatigue. It is a highly-concentrated supplement with an antioxidant action, as a single capsule is equal to about 200 ml of pure juice. Besides the purity of the active ingredients, the lyophilised Noni maintains its effect for longer periods of time and does not oxidise.
NONI 100% NATURALL: PROPERTIES OF
MORINDA CITRIFOLIA
Morinda Citrifolia is an exotic plant from the Polynesian islands and it has been used since a long time in traditional medicine to treat skin diseases, nervous and immune system diseases, respiratory system and gastrointestinal tract diseases as well as articular system diseases.
Noni juice is proving to be an active nutraceutical ingredient full of beneficial qualities for the body; its related therapeutic properties, including an energizing effect, an analgesic effect and an immune adjuvant effect are being studied. The latest scientific evidence seems to have pointed out that xeronine and other substances that are in the plant can act as regulators and constituents.
NONI 100% NATURALL: NUTRITIONAL PROFILE AND ACTIVE INGREDIENTS
Morinda citrifolia contains more than 160 nutraceutical compounds that are useful for carrying out specific functions in the body.
The resulting juice has a high quantity of metabolically active ingredients such as vitamins and minerals, enzymes, amino acids, polysaccharides, alkaloids, trace elements, antioxidants and bioflavonoids.
The most important components of Noni include:
vitamins and minerals: Noni is a vitamin A and vitamin C concentrate; these vitamins are essential micronutrients for the normal functioning of the body, since they are involved in many biochemical activities. More specifically, the juice is a good source of ascorbic acid, which is essential for boosting the immune system as well as for its antioxidant effect. Moreover, Noni is a product with a high mineral content: it contains, among others, sulfur, copper, iron, potassium, zinc, magnesium and many more;
xeronine, which is a compound involved in a large number of biochimical processes, it is supposedly involved also in protein metabolism and probably acts as a co-regulator that can modify the structure of proteins and boost the intestinal assimilation of amino acids, vitamins and minerals;
coumarins, which are substances that gives the plant an anticoagulant function, an antibacterial function and an antispasmodic role. It has shown a hepatoprotective and adaptogenic action, just like the one shown by ginseng; moreover, it is useful for protecting the cardiovascular system and for normalizing blood pressure;
terpenes, which are antioxydant compounds that are able to neutralize the excess production of free radicals. A component of Noni juice is the eugenol, which is an antiseptic and an anesthetic, beta-Carotene and ursolic acid. Terpenoids carry out a marked antioxidant effect;
serotonin, which is a neurotransmitter also known as "happiness hormone"; it is situated in the central nervous system and it plays a significant role in the regulation of mood, of any circadian rhythm, of the sensation of hunger and of thermoregulation. Serotonin sets the perception of pain and fosters the synthesis of melatonin, which is another important hormone;
damnacanthal, which is an alkaloid that seemingly boosts the immune system by the optimization of the production of macrophages and, simultaneously, the inhibition of the proliferation of some precancerous cells.
Other relevant compounds in Noni juice are vitamin B3, amino acids, proteins, catechins, flavonoids, linoleic acid, caprylic acid and caproic acid, which are all crucial to the health of the cell membranes.
NONI 100% NATURALL: CONDITIONS OF USE
Company Farmaenergy recommends to take 1 capsule a day with plenty of water. In order to boost the antioxidant effect, a nutritional synergy with fermented papaya is desirable. Do not exceed the recommended dose.
Reviews
Reviews
No customer reviews for the moment.
9 other products in the same category: