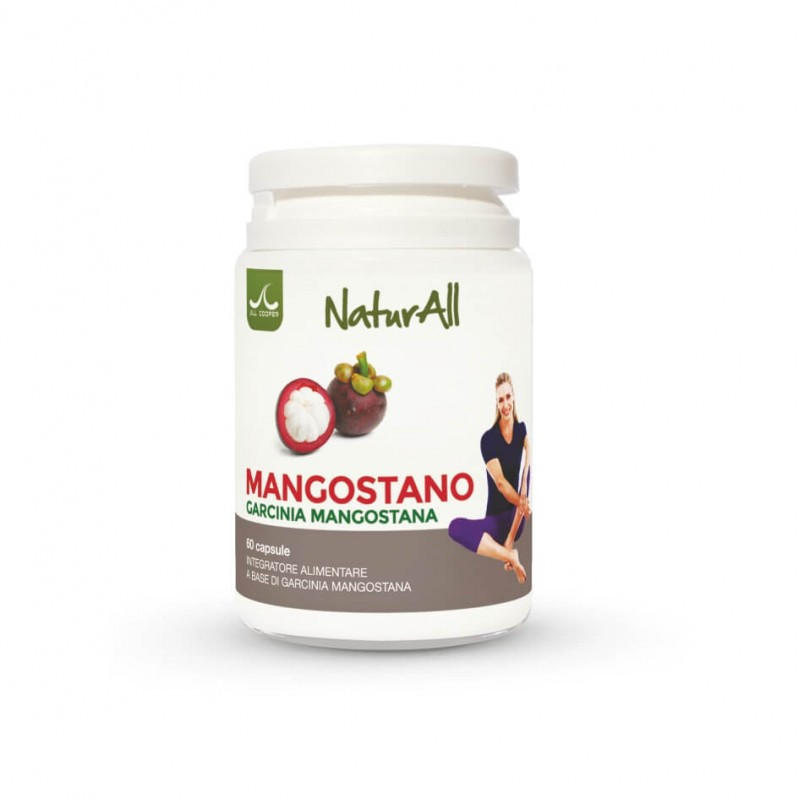 Mangostano 60 tabs
Mangustano NaturAll 60 caps is a natural dietary supplement based on mangosteen, with an antioxidant action; it boosts the natural defenses of the body.
More info
Mangustano NaturAll 60 caps is a natural dietary supplement based on mangosteen, with an antioxidant action; it boosts the natural defenses of the body.
Known as a cure-all against inflammation, mangosteen juice has been the subject of a number of discussions: is it effective or not? In fact, a research by Altroconsumo seemingly demonstrates some reservations with regard to the many properties of this tropical fruit.
In recent times, a study carried out and published by Nutritional Journal has extolled its anti-inflammatory peculiarities, by stating that a daily use of this fruit has probably reduced C-reactive protein (CRP), whose levels tend to heighten in case of inflammation or infection. In fact, high levels of CRP can encourage cardiovascular disease and metabolic syndrome.
NUTRITIONAL PROFILE OF MANGOSTEEN
We will now outline the fruit in question, by listing the properties of the compounds that compose it, that is:
Catechins that are present make it an antioxydant and anti-inflammatory product. Such properties are part of the flavonoids, which are some molecules that can neutralize free radicals damage and are able to carry out a preventive action on the premature ageing of tissues.
Tannins, which are polyphenols whose evident effect is astringent. They reduce glandular secretion and they are vasoconstrictors. In short, tannins are perfect for the reduction of the intestinal motility and the metabolic activity of body tissues.
Stilbenes, which are low-molecular-weight phenols whose effect is antifungal, namely they can protect the body from the damage caused by the excessive exposure to ultraviolet.
Xanthones, which shall be considered as the ultimate antioxidants, as they can inhibit the enzyme involved in the inflammatory disorders and can therefore block the process and relieve the pain.
PROPERTIES OF MANGOSTEEN
Actually, scientific evidence about the anti-inflammatory effect of the mangosteen juice is questionable.
But Garcinia mangostana carries out a potent anti-oxidant action that is specifically due to the presence of xanthones, namely the substances of which the fruit peel contains large amounts. Besides these compounds, the mangosteen contains a good amount of vitamin C, B vitamins, niacin, thiamine, dietary fibers and important minerals such as copper, manganese, magnesium and a large amount of potassium.
Thanks to its antioxidant properties, the mangosteen seems to be a perfect anti-ageing, for it can slow down the formation of wrinkles and improve skin elasticity and structure, as well as strengthen hair and nails.
FEATURES
Potent antioxidant;
anti-ageing properties;
it hydrates and keep skin elasticity;
it aids post-workout recovery;
it contains vitamin C and important minerals;
it helps boosting immune system.
FOOD SYNERGIES FOR MANGOSTANO NATURALL
This dietary supplement can be perfectly combined with fermented papaya in order to increase the immunostimulant effect and the possibility for the body to amplify the immunostimulant effect and the ability of the body to protect itself from seasonal diseases. In that case it is desirable to take 1 mangosteen capsule among with a papaya capsule after breakfast and with plenty of water.
Conditons of use: a capsule in the morning. Do not exceed the recommended daily dose.
Nutritional Facts
Servings per container:

60
Serving Size:

1 cpr

()
Active Ingredients
% Daily Value
di cui acido idrossicitrico (HCA)
240mg
*
Percent Daily Values are based on a 2,000 calorie diet. Your daily values may be higher or lower depending on your calorie needs.
Other ingredients:
Mangostano frutto e.s.
Istructions:
assumere 1 capsula al giorno prima di un pasto principale.
Warnings:
non eccedere le dosi giornaliere consigliate. Gli integratori non vanno intesi come sostituti di una dieta variata ed equilibrata ed un sano stile di vita. Tenere fuori dalla portata dei bambini al di sotto dei 3 anni di età. Non utilizzare in gravidanza e per periodi prolungati senza sentire il parere del medico. Conservare a temperatura ambiente in luogo fresco e asciutto. Evitare l'esposizione a fonti di calore localizzato, ai raggi solari e il contatto con l'acqua. La data di scadenza si riferisce al prodotto correttamente conservato. Non disperdere nell'ambiente dopo l'uso.
Reviews
Reviews
No customer reviews for the moment.
9 other products in the same category: