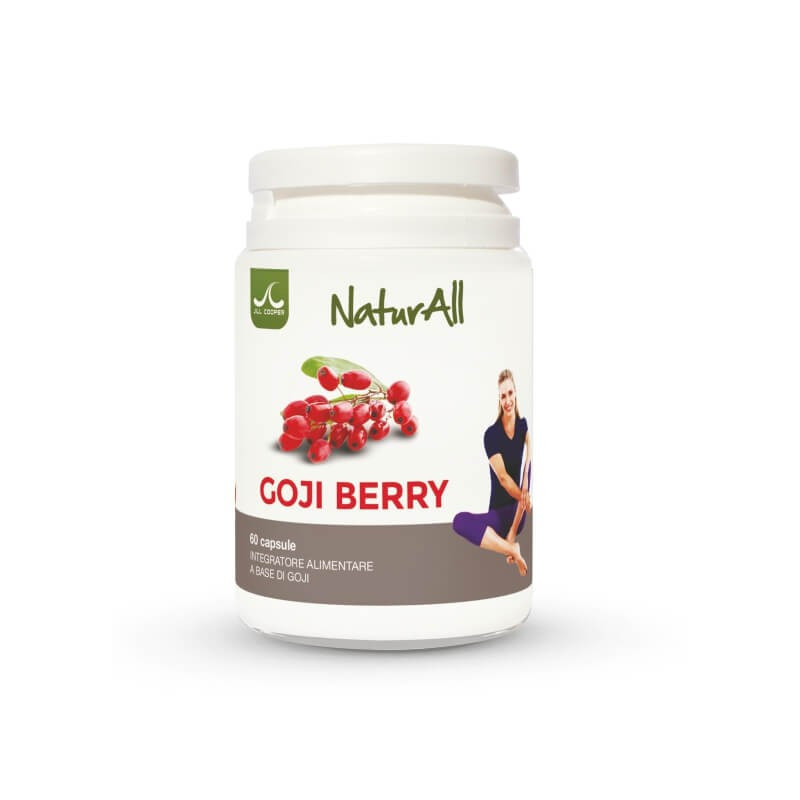 GOJI BERRY 60 tabs
Goji Berry Natural All 60 tablets by company Farmaenergy is a 100% natural Goji berry dietary supplement. Goji berry is a fruit concentrate of nutritional elements, especially vitamin C, which is a micronutrient that gives it considerable antioxidant and refreshing properties
More info
Goji Berry Natural All 60 tablets by company Farmaenergy is a 100% natural Goji berry dietary supplement. Goji berry is a fruit concentrate of nutritional elements, especially vitamin C, which is a micronutrient that gives it considerable antioxidant and refreshing properties. Vitamin C is indicated for the performance of the ordinary physiological processes of the body: the immune system function, the protection of the cells from oxidative stress, the reduction of fatigue and tiredness, the immune system function during and after intense physical activity.
GOJI BERRY: PROPERTIES AND BENEFITS
Goji berries are Tibetan fruits in the Solanaceae family that has long been appreciated by Easterners, who regard them as "fruit of life".
Actually, these small berries have several health benefits that are due in particular to some active ingredients in them.
According to the nutritional profile of Goji Berry, among its main properties, the most supposedly obvious ones are listed below:
antioxidant, which is surely the most evident among the main peculiarities of Goji, thanks to the presence of flavonoids, carotenoids and linoleic acid, which are important compounds that can neutralize free radicals and, thus, combat premature ageing of the cells;
vitamins and minerals: berries have large amounts of vitamin C, mineral salts and essential amino acids. Thus, they generally carry out an energizing effect;
the presence of vitamin C and other elements in the fruit can supposedly boost the immune system in its constant defense of the pathogenic agents, viruses, bacteria and other micro-organisms;
they balance glucose levels, since their low glycemic index (GI) helps keeping blood sugar levels under control;
they encourage metabolism and regulate bowel movements; among the properties of Goji berries, their ability of stimulating metabolism has to be pointed out. Consequently, they can be eaten also in a low-calorie diet aiming at the loss of weight, as a support to the daily caloric expenditure. The fiber content helps regularizng most of the functions of the intestine;
they support heart health and keep eyes healthy, since they could be helpful to keep cholesterol level in blood under control and prevent its oxidation that would otherwise leads to formation of atherosclerotic plaques. As for sight, the benefit seems to be directly related to the presence of active ingredients such as beta-Carotene, lutein and zeaxanthin.
GOJI BERRY: CONDITIONS OF USE
Farmaenergy recommends to take 1 to 2 capsules a day to be swallowed with plenty of water.
Ingredients: Goji fruit dry extract (Lycium barabarum, L., maltodextrin, anhydrous colloidal silica) titrated in 40% of polysaccharides, Edible gelatin, Anticaking agent: Magnesium salts of fatty acids; Dye: Titanium Dioxide. Conditions of use: It is recommended to take up to 2 capsules a day to be swallowed with plenty of water.
Nutritional Facts
Servings per container:

30
Serving Size:

2 cpr

()
Active Ingredients
% Daily Value
di cui polisaccaridi
320mg
*
Percent Daily Values are based on a 2,000 calorie diet. Your daily values may be higher or lower depending on your calorie needs.
Other ingredients:
Ingredienti: Gojifrutto estr. sec. (Lycium barabarum L., maltodestrina, silice colloidale anidra) tit. 40% polisaccaridi, Gelatina alimentare, Agente antiagglomerante: Sali di Magnesio degli acidi grassi; Colorante: Biossido di Titanio.
Istructions: Si consiglia di assumere 1-2 capsule al giorno da deglutire con un abbondante sorso d'acqua.


Warnings:
Non superare le dosi giornaliere consigliate. Tenere al di fuori dalla portata dei bambini al di sotto dei tre anni. Non assumere in gravidanza e nei bambini o comunque per periodi prolungati senza sentire il parere del medico. Gli integratori alimentari non vanno intesi come sostituti di una dieta variata ed equilibrata. Ricordiamo l'importanza di seguire uno stile di vita sano e un'alimentazione variata ed equilibrata. Conservare in luogo fresco ed asciutto. Richiudere accuratamente la confezione dopo l'uso.
Reviews
Reviews
No customer reviews for the moment.
9 other products in the same category: