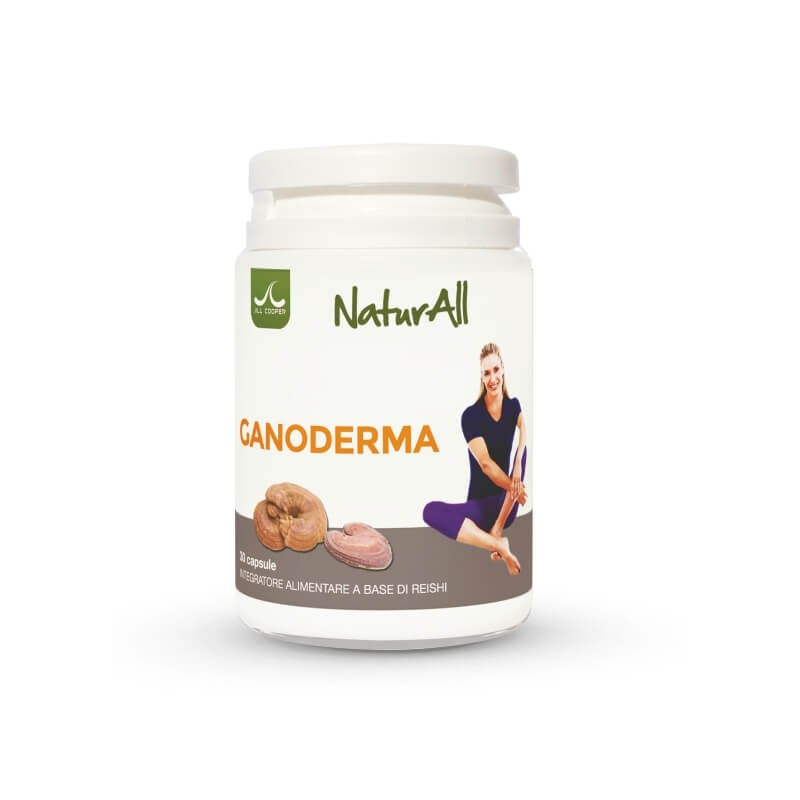 GANODERMA 60 Compresse
GANODERMA 60 Compresse
GANODERMA 30 CPS INTEGRATORE DI GANODERMA LUCIDUM (REISHI)
More info
Ganoderma 40 capsule Farmaenergy è un integratore alimentare a base del fungo Reishi in capsule da 300mg cad. d'estratto secco avente apporto in polisaccaridi di 180mg. Indicato per sostenere le naturali difese dell'organismo, il prodotto può donare energia e lucidità nei periodi d'intenso stress psicofisico.
Ganoderma Farmaenergy: le caratteristiche del fungo
Stiamo parlando di un fungo parassita o saprofita, naturalmente non commestibile visto il suo gusto amaro e la consistenza legnosa, ma dalle proprietà benefiche.
Il Reishi cresce solitario nelle stagioni che vanno dalla primavera all'autunno e il suo colore varia dal rosso accesso al bruno.
Viene considerato dagli esperti tra i 10 supporti naturali dalle maggiori proprietà terapeutiche in quanto presenta naturalmente le seguenti caratteristiche:                   
Sali minerali, contiene infatti ferro, zinco, rame, manganese, magnesio, potassio, calcio e germanio;                                                                                                              
polisaccardi quali glucosio, galattosio, mannosio e tracce di xilosio e fucosio;                            
steroli vegetali precursori ormonali;                                                                                      
adenosina;                                                                                                                         
sostanze dalla possibile attività anti-istaminica;                                                                      
triterpeni: Acido Ganodermico, Acido Lucidenico e Genolucido. 
 Vitamine del gruppo B e in particolare la folina, derivato dell'acido folico, molto importante per regolare i livelli di omocisteina e per la fertilità nella donna.       
Peculiarità del principio attivo del Ganoderma
Alcune specifiche ricerche hanno evidenziato come il Reishi contenga molteplici sostanze farmacologicamente attive, vediamole:
polisaccaridi in grado di espletare una funzione di stimolo immunologico dati i loro effetti sulle citochine;                                                                                                                           
triterpeni dall'azione adattogena, ovvero in grado di favorire la risposta dell'organismo nelle situazioni di forte stress psicofisico, anti-ipertensiva e anti-allergica; la quantità maggiore di detti triterpeni sono inclusi nella parte fruttifera e all'interno delle spore del fungo, mentre risultano completamente assenti nel micelio del Reishi.
Uno studio effettuato su 33 pazienti, ha dimostrato che la somministrazione del fungo in questione riduceva notevolmente i livelli di colesterolo dopo due settimane di costante assunzione. Anche nelle medicine orientali il Reishi viene comunemente utilizzato come ipocolesterolomizzante.
La funzione di riduzione del colesterolo sembrerebbe attribuibile a due aspetti:
Contrasto della sintesi endogena del colesterolo, tramite l'inibizione dell'enzima HMG-CoA Reductasi;
Riduzione dell'assimilazione intestinale di colesterolo.
L'elevata disponibilità di acetil CoA che attiva il ciclo di Krebs, giustificherebbe altri importanti effetti terapeutici del Ganoderma, non solo cardiocircolatori.                                                                       
Sistema immunitario e Ganoderma Lucidum
E' usanza comune oramai quella di consigliare il fungo come supporto, nel lungo termine, della funzione immunitaria. In effetti, la sua azione di stimolo immunologico, lo rende un elemento naturale coadiuvante le terapie farmacologiche per il trattamento delle neoplasie.
In uno studio ospedaliero a doppio cieco, eseguito su 48 soggetti con carcinomi in fase avanzata, venne somministrato questo fungo per 1 mese intero. Dopo detto periodo i ricercatori si sono accorti di un marcato incremento della risposta immunitaria, evidenziato da un aumento dei linfociti T e dalla riduzione della conta dei CD8.
Tutti i pazienti beneficiavano di minori effetti collaterali da chemioterapia e di una rapida ripresa dopo il trattamento chirurgico.
Ricordiamo infine il contenuto in acido oleico che possiede proprietà antiallergiche, e quello di acido ganoderico (un triterpene) in grado di favorire la risposta alle reazioni allergiche migliorando le funzionalità epatiche.                                                                                                                     
Modalità d'uso del Ganoderma
Si consiglia l'assunzione di 1 capsula al giorno da deglutire con un abbondante bicchiere d'acqua. Non eccedere la dose indicata in etichetta.
Nutritional Facts
Servings per container:

30
Serving Size:

2 caps

()
Active Ingredients
% Daily Value
di cui polisaccaridi
180mg
*
Percent Daily Values are based on a 2,000 calorie diet. Your daily values may be higher or lower depending on your calorie needs.
Other ingredients:
Ganoderma (Reishi e.s.) tit al 30% in polisaccaridi.
Istructions:
Assumere due capsule al giorno con un bicchiere d'acqua. Non eccedere la dose consigliata.
Warnings:
attualmente non sono stati riscontrati effetti collaterali sull'uomo. Sembra però che una dose eccessiva di xantoni possa causare sonnolenza e interferire con la normale coagulazione del sangue. E' consigliabile consultare il medico in caso si segua una terapia farmacologica ed evitare l'utilizzo se si stanno assumendo farmaci anticoagulanti e immuno soppressori. Il prodotto è controindicato in gradivanza e allattamento.
Reviews
Reviews
No customer reviews for the moment.
9 other products in the same category: