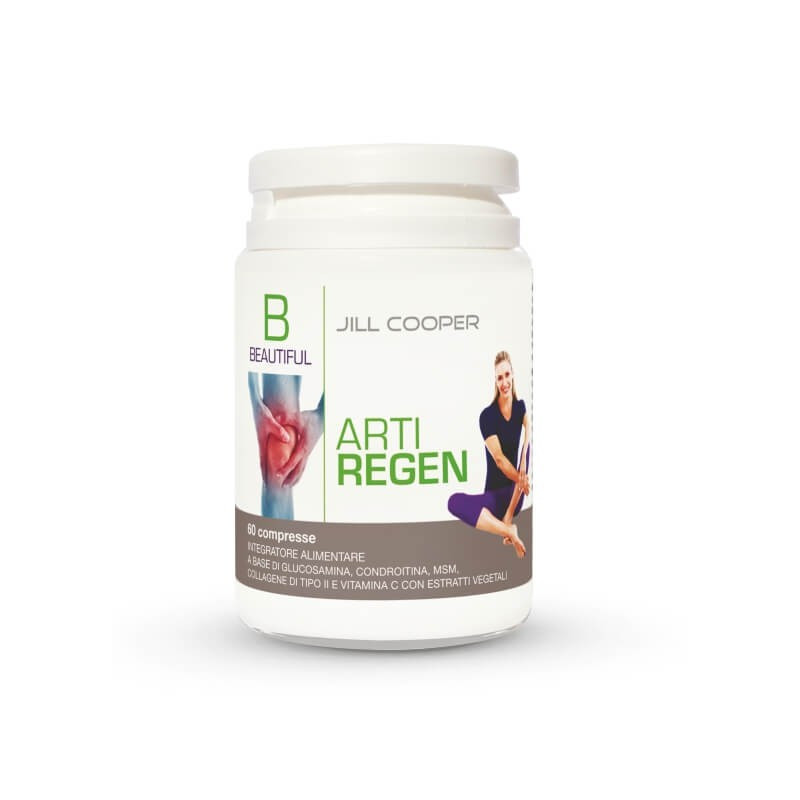 BE BEAUTIFUL ARTI REGEN 60 caps
Be Beautiful by company Farmaenergy sponsors Arti Regen 60 tablets, which is a concentrated source of synergistic substances and natural extracts.
More info
Be Beautiful by company Farmaenergy sponsors Arti Regen 60 tablets, which is a concentrated source of synergistic substances and natural extracts. This dietary supplement can boost the ordinary function of articulations.
It is a blend with glucosamine sulphate, methylsulfonylmethane (MSM), turmeric (Curcuma longa), Boswellia serrata, devil's claw (Harpagophytum, also called grapple plant or wood spider), chondroitin sulfate, ashwagandha (Withania somnifera, also called Indian ginseng, poison gooseberry, or winter cherry), native type II collagen and vitamin C.
In this product vitamin C is present in the form of ascorbic acid and it aims to fosters due synthesis of collagen for the ordinary function of bones and cartilage. Moreover, it helps reducing fatigue and tiredness; glucosamine sulphate, chondroitin sulfate and collagen are typical components of the cartilaginous tissue and the synovial liquid. The latter is contained within the articulations, while Boswellia can be useful for boosting the function of articulations.
ARTI REGEN: NUTRITIONAL PROFILE
We shall describe in detail the main properties of each component of the formulation and we shall dwell on their possible help in achieving the objective.
Glucosamine sulphate, extracted from crustaceans, seems to improve the production and the repair of the cartilage. According to several tests, taking it constantly and over time presumably bring cartilages to trigger some processes of self-repair.
Chondroitin sulfate, which is a component of a protein that can give elasticity to cartilages; it is thought to carry out an anti-inflammatory effect for articulations, reduce their pain, slow down the process of stress of articulations, contribute to cartilage growth if it is worn out and reduce the turgidity of articulations.
methylsulfonylmethane (MSM), which is a type of sulfur whose vital role is to keep joints healthy; it is one of the main components of the connective tissue.
Curcuma Longa root dry extract titrated in 95% of curcumin, despite its not clearly established functioning, according to the latest researches has pointed out some therapeutic indications. It definitely has an antioxidant effect, which is very useful for the protection of cell structures from oxidative damage induced by the abundant production of radicals, and an anti-inflammatory effect when it is used as an adjuvant of pharmacological therapies for the treatment of chronic inflammatory diseases.
Boswellia serrata, which is a plant rich in boswellic acid, tetracyclic compounds and polysaccharides, which can determine a potent analgesic and anti-inflammatory action against several osteoarticular diseases. Such an action reveals itself through a significant easement of pain and a reduction of the swelling, which lead to positive effects even as for articulation motility.
The use of Arti Regen Be Beautiful is also suitable for other important ingredients that are contained in it: they are, among others, devil's claw, whose possible analgesic properties will ensure that it has been in use in phytotherapy for many years; ashwagandha (also called Indian ginseng), whose tonic adaptogenic action makes it excellent; native type II collagen and vitamin C, since they are natural constituents of cartilages.
ARTI REGEN: CONDITIONS OF USE
Company Farmaenergy recommends to take 1 tablet a day to be swallowed with plenty of water. Do not exceed the dose on the label directions.
Nutritional Facts
Servings per container:

60
Serving Size:

1 cpr

()
Active Ingredients
% Daily Value
Glucosamina solfato
422mg
di cui ac. Boswellici
32,5mg
Artiglio del Diavolo e.s.
50mg
di cui whitanolidi
0,75mg
Collagene nativo di tipo II
0,02mg
*
Percent Daily Values are based on a 2,000 calorie diet. Your daily values may be higher or lower depending on your calorie needs.
Other ingredients: Glucosamina solfato, MSM, Condroitin Solfato, Curcuma e.s. tit. Curcumina, Boswellia e.s. tit. ac. Boswellici,
Artiglio del Diavolo e.s. tit. Arpagoside, Ashwagandha e.s. tit. in whitanolidi.
Istructions:
assumere 1 compressa al giorno con abbondante acqua. Non eccedere la dose indicata in etichetta.
Warnings:
Non superare le dosi giornaliere consigliate. Tenere al di fuori dalla portata dei bambini al di sotto dei tre anni. Non assumere in gravidanza e nei bambini o comunque per periodi prolungati senza sentire il parere del medico. Gli integratori alimentari non vanno intesi come sostituti di una dieta variata ed equilibrata. Ricordiamo l'importanza di seguire uno stile di vita sano e un'alimentazione variata ed equilibrata. Conservare in luogo fresco ed asciutto. Richiudere accuratamente la confezione dopo l'uso.
Reviews
Reviews
No customer reviews for the moment.
9 other products in the same category: