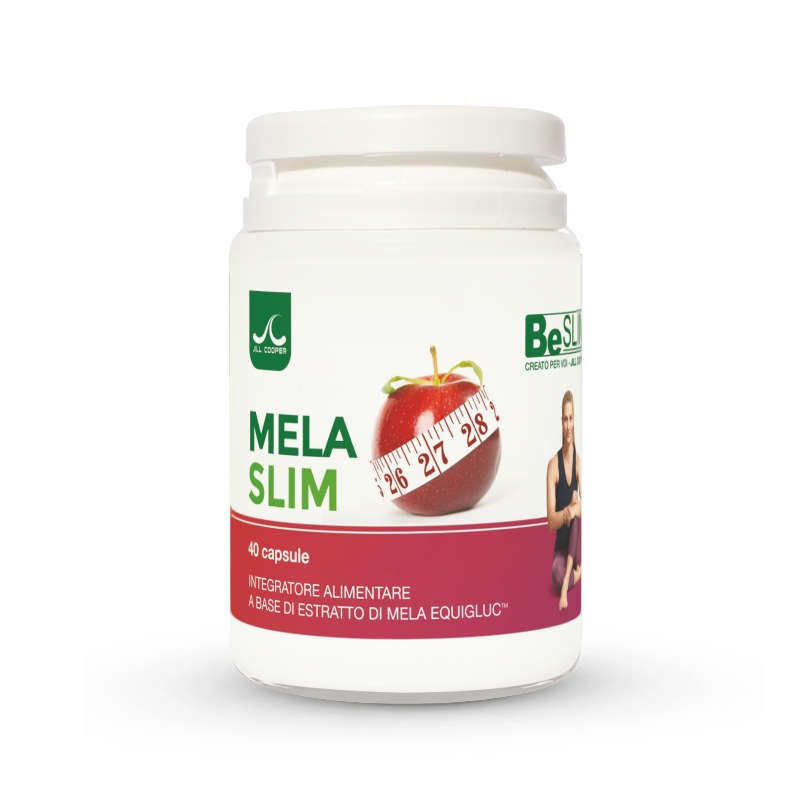 Mela Slim 40 tabs
Mela Slim Farmaenergy is a supplement containing the vegetable extract of the peel of Mela Equigluc ™, tit. in Florizina
More info
Be Slim Farmaenergy line is an innovative dietary supplement containing extract of Apple Equigluc ™, useful for making a supplementary share of this component in everyday nutrition.
MELA SLIM, THE PROPERTIES OF FLORIZINA
Many perhaps know the purifying power of the apple extract, but many are unaware of the properties of the active ingredient florinzina contained in it.
We are talking about a revolutionary 100% natural food supplement containing the highest quality apple extract, certified by analyzes performed at Italian laboratories and completely free of gluten, allergens, BTSE / TSE and GMO.
The presence of Florizina was determined using modern high pressure liquid chromatography (HPLC) techniques, which ensures the effectiveness and quality of the finished product.
The apple is recognized by many as an "intestinal scavenger", even if few people know the properties of florizina. This is a molecule contained in the skin of the apple that would seem able, even if not confirmed by science, to:
Natural detoxification and purification.

adjust mestrual cycle;

support menopause women;

rebalance hormones.
From an organic point of view, the structure of florizina is similar to that of soy isoflavones, and together with the same it would seem to act as an ally to the metabolism in conditions of reduced caloric intake of the diet aimed at weight loss.
HOW TO USE MELA SLIM
Average contents for 1 caps:
Equigluc ™ 250 mg
Florizina app. 125 mgC
Ingredients: Equigluc ™, Melo falsus fructus estr.sec. (Malus pumila Mill.) Tit 50% Florizine, Food gelatin, Bulking agent, Microcrystalline cellulose; Anti-caking agent, magnesium salts of fatty acids, dye, titanium dioxide.
How to use: We recommend taking 1 capsule a day to be swallowed with plenty of water.
Nutritional Facts
Servings per container:

40
Serving Size:

1 cpr

()
Active Ingredients
% Daily Value
*
Percent Daily Values are based on a 2,000 calorie diet. Your daily values may be higher or lower depending on your calorie needs.
Other ingredients: Ingredienti: Equigluc™, Melo falsus fructus estr.sec. (Malus pumila Mill.) tit 50% Florizina, Gelatina alimentare, Agente di carica, Cellulosa microcristallina; Agente antiagglomerante, Sali di magnesio degli acidi grassi, Colorante, Biossido di Titanio.

Istructions: Si consiglia l'assunzione di 1 capsula al giorno da deglutire con abbondante sorso d'acqua.


Warnings:
Non superare le dosi giornaliere consigliate. Tenere al di fuori dalla portata dei bambini al di sotto dei tre anni. Non assumere in gravidanza e nei bambini o comunque per periodi prolungati senza sentire il parere del medico. Gli integratori alimentari non vanno intesi come sostituti di una dieta variata ed equilibrata. Ricordiamo l'importanza di seguire uno stile di vita sano e un'alimentazione variata ed equilibrata. Conservare in luogo fresco ed asciutto. Richiudere accuratamente la confezione dopo l'uso.
Reviews
9 other products in the same category: