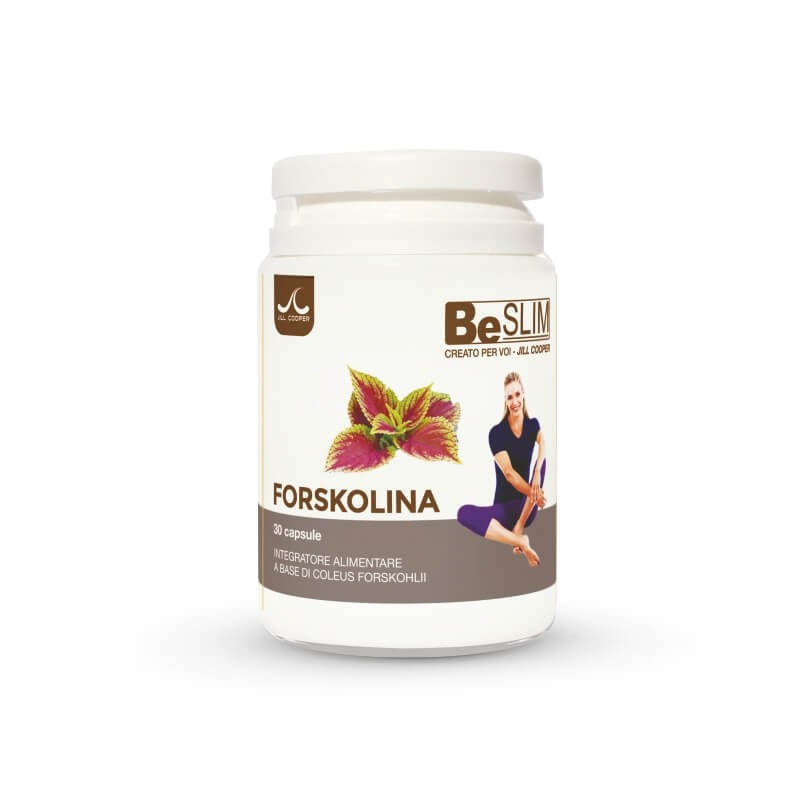 Forskolina 40 Tabs
Forskolina is a BeSlim line product. BeSlim line is a range of products developed by Farmaenergy in collaboration with the fitness icon Jill Cooper.
More info
Forskolina is a BeSlim line product. BeSlim line is a range of products developed by Farmaenergy in collaboration with the fitness icon Jill Cooper.
It's a food supplement containing Coleus Forskohlii extract, titrated at 10% in forskolin, a substance that can have positive effects on the body weight balance.
CHARACTERISTICS
Coleus Forskohlii is a plant that belongs to the Lamiaceae or Labiatae family and has been used for centuries in Ayurvedic medicine to regulate the cardiovascular system functionality, as well as the arterial pressure and the upper respiratory tract functions.
An effective forskolin-based product should be titrated to 10-20% in forskolin, while the recommended dose goes from 10 to 60mg of active substance, 2/4 times a day.
Among the main peculiarities of this ingredient there is the ability to imitate the TSH action by stimulating the synthesis and the thyroid release of iodized hormones, without stopping the endogenous synthesis of Tsh. According to modern science, it is arguable that it can raise T3 and T4 above normal levels even if it's certain that it can regulate the iodized hormones values and prevent them from falling dramatically during caloric restriction periods.
The beneficial effects of forskolin do not end with this. In fact, this substance can enable, thanks to the increase of the enzyme cyclase, all those processes that lead to the triglycerides splitting, the construction of lean tissue through the activation of phosphorylase in skeletal muscles, the release of insulin and the endocrine anabolic thrust.
This means, as many studies showed, that with 50mg of forskolin, an individual can lose up to 4 or 5kg in two or three months.
FORSKOLINA AND OTHER COMPOUNDS
To amplify the aforementioned effects of this plant extract, it's suggested to use this compound combining it with the so-called beta stimulants, among which caffeine, guarana, garcinia cambogia and many others. In facts, it's widely recognised that TSH and catecholamines work synergistically.
In this regard, Farmaenergy advises to take Forskolina in combination with other products such as Garcinia and Caffè Verde Beslim to support the weight loss program.
This supplement is not intended a substitute for a varied and balanced diet and a healthy lifestyle. To support lipolysis, in fact, is always necessary to achieve and maintain a negative calorie balance.
CONDITIONS OF USE
It is recommended to take 1 capsule a day to be swallowed with plenty of water.
Ingredients: Coleus Forskohlii root dried extract (Plectranthus barbatus Andrews, maltodextrin, colloidal anhydrous silica) tit. 10% Forskolhi
Nutritional Facts
Servings per container:
Serving Size:

1 cpr

()
Active Ingredients
% Daily Value
*
Percent Daily Values are based on a 2,000 calorie diet. Your daily values may be higher or lower depending on your calorie needs.
Other ingredients:
Coleus Forskohlii radice estr. sec. (Plectranthus barbatus Andrews, maltodestrina, silice colloidale anidra) tit. 10% Forskolina
Istructions: Si consiglia di assumere 1 capsula al giorno da deglutire con abbondante acqua.


Warnings:
non eccedere le dosi giornaliere consigliate. Gli integratori non vanno intesi come sostituti di una dieta variata ed equilibrata ed un sano stile di vita. Tenere fuori dalla portata dei bambini al di sotto dei 3 anni di età. Non utilizzare in gravidanza e per periodi prolungati senza sentire il parere del medico. Conservare a temperatura ambiente in luogo fresco e asciutto. Evitare l'esposizione a fonti di calore localizzato, ai raggi solari e il contatto con l'acqua. La data di scadenza si riferisce al prodotto correttamente conservato. Non disperdere nell'ambiente dopo l'uso.
Reviews
Reviews
9 other products in the same category: