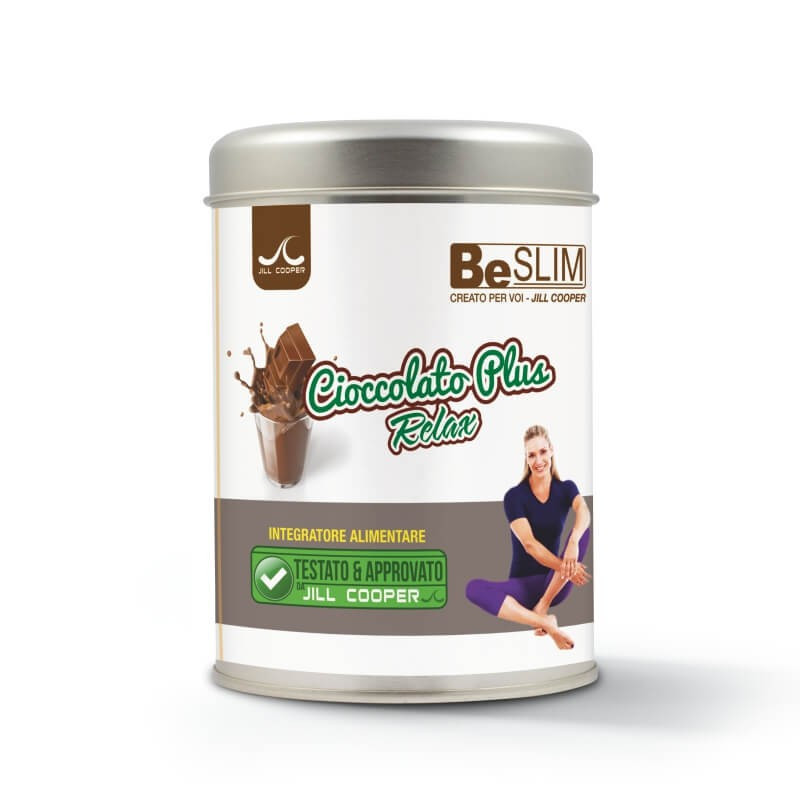 Cioccolato Plus Relax 180g
Cioccolato Plus Relax 180g is a new and innovative blend proposed by Farmaenergy Biosalts laboratories. This unique product is a powder mixture good to prepare a tasty and creamy diet chocolate with multiple properties
More info
Cioccolato Plus Relax 180g is a new and innovative blend proposed by Farmaenergy Biosalts laboratories. This unique product is a powder mixture good to prepare a tasty and creamy diet chocolate with multiple properties.
The food supplement is composed by soluble chocolate with the addition of dry extracts of green coffee, garcinia cambogia and ganoderma, three elements that can assist the weight loss during low-calorie diets.
We are not talking about the classic "slimming product", but a new formula that combines the nutritional properties of all its ingredients to a very good taste. This product is the opportunity for people on diet to take a break like everyone else, sipping a drink that in the meantime promotes a tonic action and supports the metabolism.
CIOCCOLATO PLUS RELAX: A FOCUS ON THE INGREDIENTS
Let's focus now on the peculiarities of the substances contained in this formula, to better understand how they can meet our individual needs:
Green coffee, a natural blend that is processed in a different way than the classic coffee seeds which are normally dried and roasted. It's particularly rich in caffeine and chlorogenic acid, a natural substance that is usually destroyed by the coffee toasting processes.
It has a tonic and metabolic support action as it is also concentrated in methylxanthines, some natural compounds that increase the basal metabolic rate, allowing the body to burn more calories and fat reaching a negative caloric balance.
Garcinia Cambogia, an extract from the homonymous plant of the Clusiaceae family that grows spontaneously in tropical environments and regulates lipid metabolism and hunger sensations. It contains hydroxycitric acid or HCA titrated to 60%, the highest rate on the market. This substance inhibits the citrate lyase enzyme and prevents the conversion of the sugars into energy (and not fat), favoring also a satisfaction and satiation feeling. In addition, it helps and encourages the liver to produce sugars to increase the liver glycogen levels.
Ganoderma Reishi, used for years in oriental medicine and known as "the fungus of immortality". It's one of the 10 most effective natural substances in the world. It is cultivated and used in the East for its antioxidant peculiarities,  and for its content in polysaccharides, which are useful as immunocoadjuvants. It also helps to regulate cholesterol and glycemia and is able to promote physical and mental well-being.
CHARACTERISTICS OF CIOCCOLATO PLUS RELAX
·       Can help the weight loss;
·       has a tonic and metabolic support action;
·       has a beneficial effect on lipid metabolism and body weight balance;
·       it is useful to support the body's natural defenses;
·       has a pleasant taste and a ready-to-go formula.                                      
Nutritional Facts
Servings per container:

50
Serving Size:

3g

(

2 cucchiaini da caffè

)
Active Ingredients
% Daily Value
Cioccolato solubile
2,88g
Garcinia Cambogia e.s.
40mg
di cui acido idrossicitrico
24mg
Ganoderma (reishi e.s.)
40mg
di cui polisaccaridi
12mg
di cui acido clorogenico
18mg
*
Percent Daily Values are based on a 2,000 calorie diet. Your daily values may be higher or lower depending on your calorie needs.
Other ingredients: Cioccolato solubile, Garcinia Cambogia Es, Ganoderma (reishi e.s.), Caffè verde e.s.,

Istructions:
diluire 2 cucchiaini da caffè di Cioccolato Plus Relax, circa 3 grammi, in poca acqua calda, 1 o 2 volte al giorno.
Warnings:
non eccedere le dosi giornaliere consigliate. Gli integratori non vanno intesi come sostituti di una dieta variata ed equilibrata ed un sano stile di vita. Tenere fuori dalla portata dei bambini al di sotto dei 3 anni di età. Non utilizzare in gravidanza e per periodi prolungati senza sentire il parere del medico. Conservare a temperatura ambiente in luogo fresco e asciutto. Evitare l'esposizione a fonti di calore localizzato, ai raggi solari e il contatto con l'acqua. La data di scadenza si riferisce al prodotto correttamente conservato. Non disperdere nell'ambiente dopo l'uso.
Reviews
Reviews
No customer reviews for the moment.
9 other products in the same category: