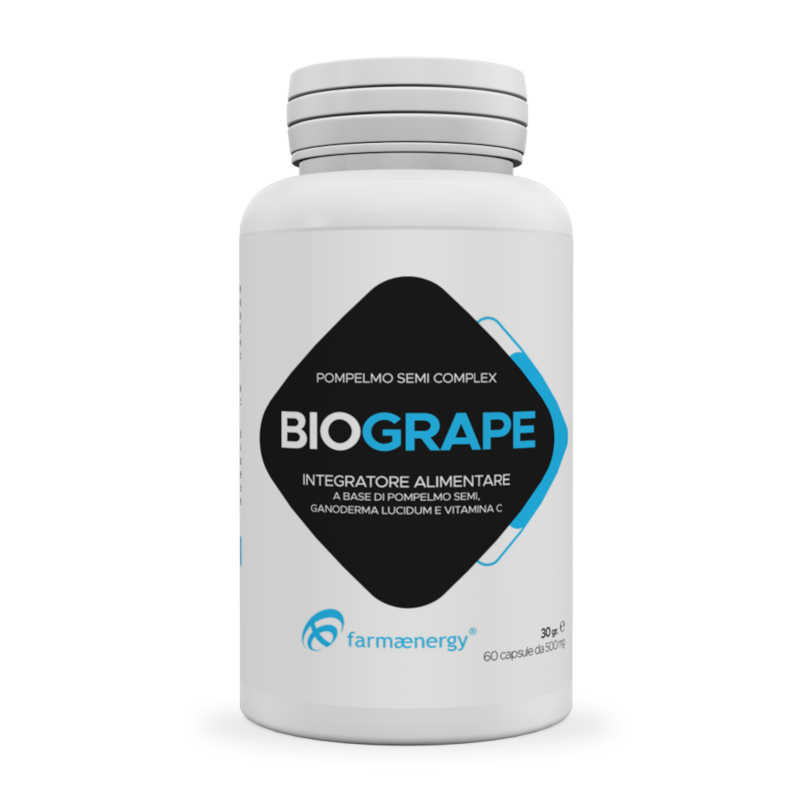 BioGrape 60 caps 500mg
BioGrape Farmaenergy is a supplement of grapefruit, reishi and vitamin C seeds, to support the body's normal defenses and for its antioxidant action
More info
The grapefruit seeds are useful as an antioxidant, for the functionality of the microcirculation and drainage of body fluids. The reishi or ganoderma lucidum helps the body's normal defenses, while vitamin C contributes to the maintenance of the normal functions of the immune system.
BIOGRAPE: THE PROPERTIES OF THE INGREDIENTS
We now enter the specifications of the elements present in this formula, going to describe what may be its peculiarities, and then:
Grapefruit, fruit with a bitter taste not always appreciated by everyone, is used in phytotherapy for its supposed detoxifying properties against the liver, as well as for a correct lipidemic picture. Its pink variant, rich in antioxidant elements such as lycopene, would be useful for the prevention of some neoplastic pathologies. Marketed as a natural antibiotic, grapefruit seeds seem to perform more than anything else an antioxidant power, able to counteract the excess of free radicals, responsible for oxidative stress due to aging of tissues.
The reishi (Ganoderma Lucidum) which owes its name to its glossy appearance, has always been used in traditional oriental medicines. This fungus is attributed immuno-adjuvant properties, for the normal functioning of the body's defenses. Furthermore, the dry extract in question would seem to improve stress levels, counteracting asthenia and weakness. According to some scholars, it would have hepatoprotective and detoxifying properties, demonstrated by its ability to support the regeneration of liver cells.
Vitamin C, a micronutrient that has among its main properties, that of counteracting the excessive production of free radicals, small but very reactive molecules that can become harmful to the body if not kept under control. Apart from the antioxidant activity we also remember the involvement of the vitamin in the synthesis of collagen, a protein that forms the connective tissue and determines its elasticity, a factor that has a positive effect even for those who practice physical activity.
Nutritional Facts
Servings per container:

60
Serving Size:

1 caps

()
Active Ingredients
% Daily Value
di cui polisaccaridi
30mg
*
Percent Daily Values are based on a 2,000 calorie diet. Your daily values may be higher or lower depending on your calorie needs.
Other ingredients:
Pompelmo semi e.s. , Reishi e.s., Vitamina C
Istructions:
Assumere 1 o 2 capsule al giorno con un abbondante bicchiere d'acqua e a stomaco pieno.
Warnings:
Non superare le dosi giornaliere consigliate. Tenere al di fuori dalla portata dei bambini al di sotto dei tre anni. Non assumere in gravidanza e nei bambini o comunque per periodi prolungati senza sentire il parere del medico. Gli integratori alimentari non vanno intesi come sostituti di una dieta variata ed equilibrata. Ricordiamo l'importanza di seguire uno stile di vita sano e un'alimentazione variata ed equilibrata. Conservare in luogo fresco ed asciutto. Richiudere accuratamente la confezione dopo l'uso.
Reviews
Reviews
No customer reviews for the moment.
30 other products in the same category: